To defend your skin with Products Safety and Certification
The Importance Of Halal & Dermatologist
Tested Skincare Products
OVG is proud to announce that all of our products are Officially CERTIFIED HALAL and most of it are DERMATOLOGY TESTED. When a skincare product, such as ours deemed dermatology tested, they must go through various procedures to determine if the products are safe to use on even the most sensitive skin.

Halal Certifications Products
All Orlins product offerings have received Halal Certification from the Halal Advisory Group of Thailand
What is Halal? Is "HALAL" For Muslims Only?
In Islam, Halal is an Arabic term meaning "lawful or permissible" and not only encompasses food and drink but all matters of daily life.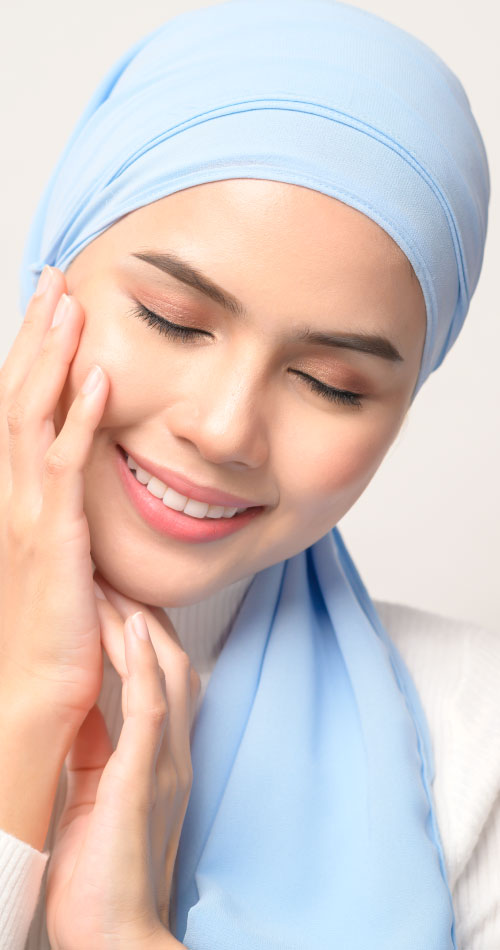 How Can I Tell If My Makeup Is Halal?
Looking for a Halal logo on product packaging is the first step to knowing the Halal status of cosmetics and any health and beauty goods.  However, if you want to get into the nitty-gritty of the ingredients, here are the ones to avoid:
CARMINE
A red pigment derived from Cochineal (crushed beetles)
KERATIN
A popular ingredient in hair care, but it's a natural protein often derived from animals
OLEIC ACID, LANOLIN ALCOHOL & GELATINE
All three ingredients are derived from animal matter
ANIMAL FAT
Glycerine used in cosmetics and personal care products can be obtained from natural sources (e.g., soybeans, cane, or corn syrup sugar) or manufactured synthetically. This synthetic form is chemically identical to naturally-occurring glycerine and the body handles both the same way. Glycerine is also often obtained from pork fat (which is haram),
Stearic acid is a saturated, long-chain fatty acid that's found naturally in various animal and plant fats, (Though it's worth mentioning that the stearic acid used in skincare can also be synthetically derived.)
How Can I Tell If My Makeup Is Halal?
HALAL CERTIFICATION PROCESS
In order to complete the Halal Certification process, companies must complete a three-step process with an advisory group.  This process includes : 
EVALUATION
Explanation of company and the need for receiving Halal
Certification
INSPECTION
Onsite inspection of plant and process and content of products
Ingredients
CERTIFICATION
Once the evaluation and inspection are complete, if passed,
the organization will be granted certifications.
With the Halal cosmetics market gaining traction globally, many long-ignored
beauty consumers may finally be able to easily follow their lifestyle choices.